Attachment:
File comment: 1980 Luv on a Wagoneer chassis with 33's, a Locrite, and 4.56's. It has a 5 speed and power steering, LED's in back, a crane and two winches. It's blue now, but hope to be sublime green later.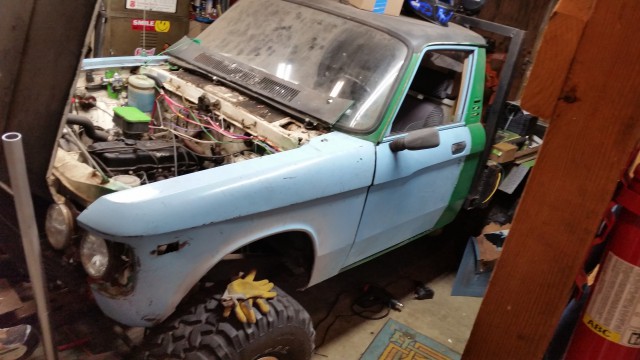 Blue FRoG May 17.jpg [ 3.7 MiB | Viewed 1865 times ]
Say, does anyone know who carries hinge pin and bushing kits for a 1980 Luv?
I ordered one off eBay that was said to fit a 1978 and come to find out it won't fit mine.. are they not the same truck?
(The kit's pins and bushings are too large in diameter. I'm not keen on drilling, thus ruining, the bores)
I tried the DIY from a way old post that suggested using 1/4" grade 8 bolts with bushings from a hardware store. I did to find the 1/4" bolts are too small in diameter although the bushings could work.
But to add a sleeve to make up the bolt's OD to the hinge bore's ID would defeat the required press fit wouldn't it? (in spite of the post's use of a nyloc nut?)
Any ideas? So far I've found nothing locally or online, new or used.
Thanks!