History:
Bought a 1980 LUV that was sitting for 10 years due to the death of the owner. Daughter keep the truck in storage. I was looking for a truck and was asking around and her hubby told me she might be ready to sell this truck. I bought it.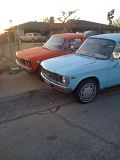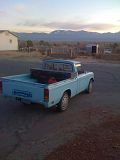 I put MOON hub caps and skinny tires for that drylake look-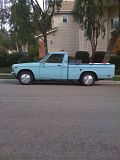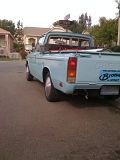 I was dealing with the problem of it not running right and was doing it one thing at a time-Fuel, Spark and Compression. Could only work on it on weekends due to work and was searching the internet for answers, found most of them here on this site. The manual I got with the truck had seen better days so I picked up a new Haynes 72-82 Chevy LUV Manual from Autobooks/Aerobooks
http://www.autobooks-aerobooks.com/contact.php
. I called and talked to Tina and she had a book ready for me to pick up. It's one of those stores, if they don't got it they will get it, and if they can't get it then it's out of print. Bought a manual and I added a weber carb and rebuilt my dist.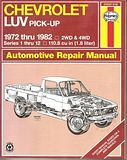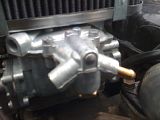 Here is a run down of my truck I just bought that sat for 10 years got it for good price but it ran bad, would sputter, spit back fire and when it ran cold it would do @60mph. Then it warmed up it did @20mph or less. Every Time I would replace some thing it would run great and then it would act up again. Truck has over 100,000 miles on it. Reading many threads through the search on this site and it helped a lot. Here are some of the problems I had-
Top 10 list why my truck ran bad:
1.Bad Carb Replaced it with a Weber 38 DGES
2.Bad front brake calipers sticking-Replaced
3.Bad Fuel pump, worked but not enough pressure when driving. Replaced with a Mr Gasket blue pump rated 4-6lbs.
4.Too much fuel pressure. A regulator was in order, but a fuel pump cost just as much so I went with new Mr Gasket red pump instead. It was rated 2-3lbs which is required for a Weber per their instruction sheet.
5.Bad ballast resistor- Used an MSD 6AL to eliminate the ballast resistor
6.Bad points-burnt- Used MSD 6Al, it runs low voltage to the points so even if points are bad, as long as they make a signal to the MSD they work just fine. Eventually replace points, had a set of points in another truck that had a short in them, so I put new points in this truck and used points in that one that I don't drive often.
7.No mech advance in dist.-Took dist apart, Previous owner put SBC springs in mech adv. Springs to strong, adv didn't kick in till really high rpms. Replaced them with Mr. Gasket curve kit springs using med to lite springs.
8.No vacuum adv-Took the vacuum adv plate off. I was froze up with rust so I cleaned it with carb and brake cleaner, wd-40 and then pack the bearings with grease just like I would pack front wheel bearings.
8.Coil wire bad and a dead spark plug wire. Due to the MSD it ran on all cylinders but it had a miss and a back fire in the exhaust on deceleration, and vacuum showed poor vacuum. Was told the truck had new spark plug wires and cap and rotor. Friend of mine checked the wire and the wires had a lot of resistance and one was non existent, dead. The coil wire had so much resistance it was close to being dead. Replaced wires.
Truck started running 90mph. But ran bad at lower speed until the spark plug wires were changed.
9.Compression test showed all cylinders in good shape, check timing according to spec's. Timing good. Adv.good.
10.Blew a tire at @85mph after visiting Figueras and buying some parts. Luckly got some rims with tires and used one of them to get back on the road. Replaced tires with new BFG'S
Truck runs great and gets great mileage. Need to rejet, runs a little rich. Will do that next.
Then this happen:
Here is my most recent problem. My truck left me on the side of the frwy. A free service takes you off the frwy on a hook out of harms way-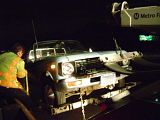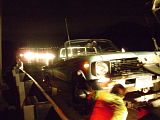 So I had plenty of light to see what was wrong. I had spark in my coil but not spark at spark plug. I grounded the MSD and I had spark at the plugs. I looked at my points which I just change and they look good. I had my wife turn the motor over and the points stayed open. OK, they must be loose. Points were not loose. Something strange, I put the rotor on and had my wife turn the engine over. Engine turn over but the rotor didn't. I took the dis out to see if the shaft broke. No shafts fine. Had the wife turn it over again and looked down the dust hole. The gears were going back and forth but not turning. Oil pump took a dump. Never saw the oil light, it just shut off. So I'm hoping it didn't take out any bearings. Been really cold out here and I was running thicker than normal oil for the weather conditions. Noticed my choke was still on and engine was still cold when I first broke down, even after @50 mile of driving. Called a for flat bed , waited a couple hours and then got towed 51 miles home.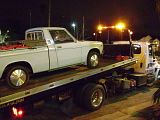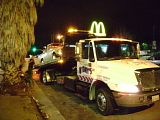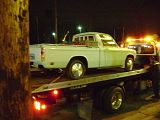 Started my trip @4 pm and ended it at @midnight with catastrophic failure.
I started working on the LUV since it broke the oil pump and this is what I saw. The belts were miss aligned so I took a closer look and to my surprise I can see balancer sticking out ready to fall off.
Balancer came out by hand. WOW, I got really luck it didn't come off while driving.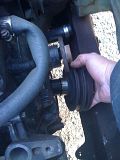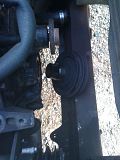 The chain is still turning the cam. I have not yet pulled it apart to see what happen, but I'm assuming I broke the pin in the oil pump or worst I broke the drive gear. I had a lot of rust in the dist from sitting so I'm assuming the same might be true at the oil pump. Never had the oil light come on so I hoping for the best, if not V8 here it comes. My oil light was working properly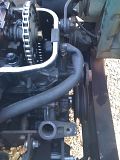 Finally got around to taking it apart and this is what I found-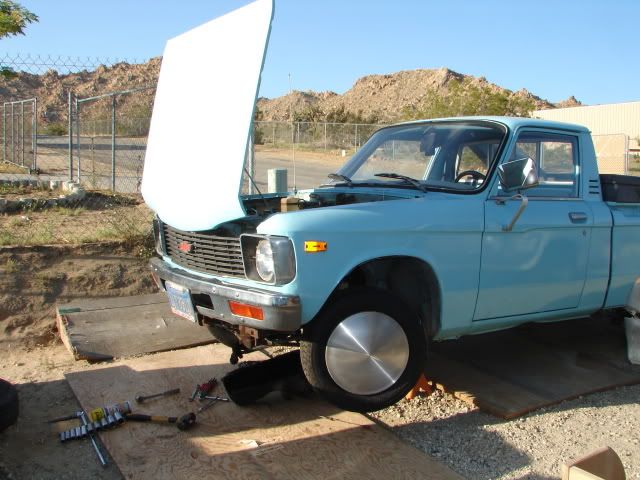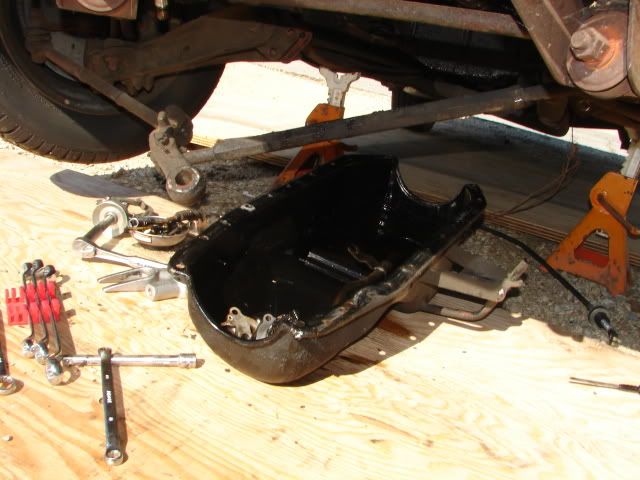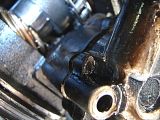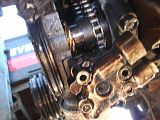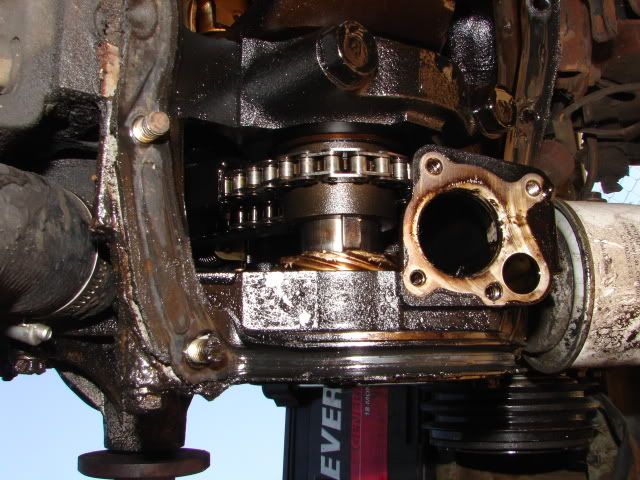 It seems that the oil drive was coming off the crank along with the balancer. Oil pump looked and worked fine.
Now my question, can I remove the front cover without removing the head? I may just pull the motor if I have to take the head off. I may try to tap the gear back in with a blunt chisel.