I have decided to sell my extra Luvs and focus on my 72 this year. Having 3 trucks makes it hard to make any progress at my age. The Red truck just passed smog with flying colors and the tags are good through this December (2017). I would rather it goes to a Luv guy then a random person looking for a small truck. This is a great running truck that will fire right up and go. I was told when I bought it the engine had been rebuilt but have no documentation. Overall it is pretty clean and a fresh paint job would make it look like new. The throw out bearing does make a noise occasionally so I purchased a new complete clutch kit but haven't installed it yet. If I do I will want more for the truck. There are no other known issues. If you are interested or have any questions shoot me a PM. You can see what I have done with it since I got it in this thread.
This is the current condition
Attachment:
Dash pad with Dash Cap
Attachment:
This is the yellow 78 with a crawl through cab. Non Op in my name, no motor no trans otherwise complete. It does have some body damage on the right rear taillight but I have a complete replacement bed for it.
Attachment: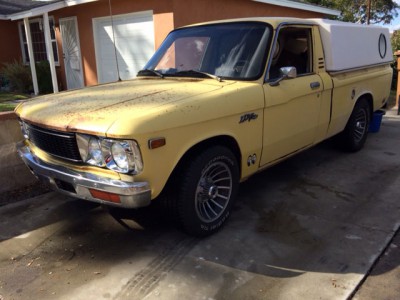 wheels3.jpg [ 33.68 KiB | Viewed 4480 times ]