Springs went from 5 to 4 leafs with the '78 model year, to what they termed the "soft ride" suspension. This includes the short reverse-arch overload bottom leaf.
I swapped in some '77 5-leafs packs, then added a helper spring, then two more long leafs from a Ford pickup for eight total before I got it where I wanted it for ride height, stiffness & load capacity. It takes over a ton before it contacts the bump stops.
Attachments:
File comment: Hickory firewood, springs are just flat, not bottomed.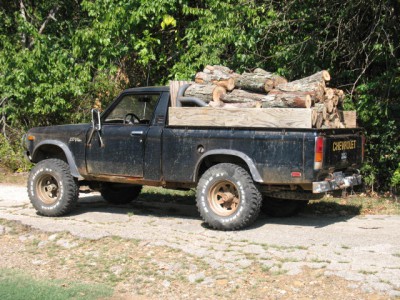 IMG_0002.JPG [ 107.25 KiB | Viewed 3562 times ]

_________________
'78 Chevy LUV,1.9,4sp,headers,31's,SAS Dana 30,Dana 20,SOA rear w/Aussie Locker, rough body, bought new 12/4/78.
'87 Trooper,2.3,5sp,headers,31's,ball joint flip & spacer,Aussie Locker rear,Superwinch hubs,brush guard w/5.5K winch,more to come.