I was having some really unpredictable oil consumption, but otherwise the engine was running fine. I was getting about 34 MPG around town, and it always started right up (although when cold, it usually seemed to start on 3 cylinders and the 4th would catch within a few seconds).
I have a good friend from the IsuzuPup.com site and the PlanetIsuzoo.com site, who retired several years ago, after working as a mechanic/instructor for Isuzu. He agreed to overhaul the engine, provided I wasn't in a hurry. So, I drove it to him, just outside of Atlanta in November of 2013. While he had it, he fixed everything mechanical on the truck that needed it. In addition to a new set of pistons, he had the engine balanced at a local performance shop.
Take a look at what he found when he got the pistons out!
Attachment:
Attachment:
File comment: Here's another shot of the same piston, with the light from behind!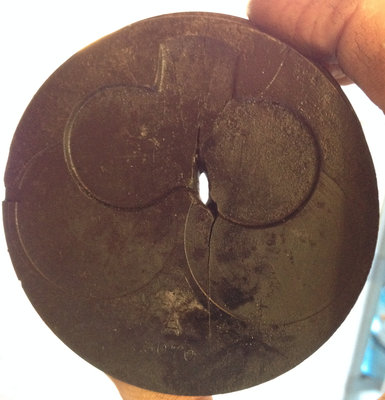 piston_backlit.jpg [ 1.48 MiB | Viewed 4149 times ]
I can't figure out why it ran so well. I drove it around 75-85 mph on the highway between Memphis and Atlanta, with no issues. I had a spare gallon of oil, but it was still at the "full" mark after I arrived.
Anyway, the truck finally came home a couple of months ago. I sold the bed while it was in Atlanta, because I found a better one in my local Pull-A-Part. So I drove it home without a bed.
Next is body work and paint.
Jack