So I bought a LUV replacement a couple weeks ago...a 1998 S10 LS V6/auto ex-cab, 3rd door short box w/200K.
I have been looking for a nice El Camino, a older truck or an S10/Extreme/ZQ8 equipped truck. I wanted something comfortable for a shop truck and errand runner....cheap and small. I needed something with a pick up bed to haul nasty stuff and motors/parts.
I had sold my 73 V8 stepside LUV for 5K a few months ago, (write up in the forums) sure it had a V8/700R4 conversion....but lacked a lot of comfort, had no power steering, rode stiff, and still needed a lot of work. The interior was the biggest issue for me, very basic, stiff bench seat, no heater, (V8 conversion custom trans tunnel eliminated it) super expensive dash replacement (I was quoted $1,400 from just dashes) and non existent new replacement parts. Yes I could have upgraded and revised everything to make it better but I didn't think it was worth it.
I try not to put too much more in a vehicle than I can sell it for. (Not including my daily work driver.)
A lot of the guys that race your LUV these are not issues, like a daily driver may be.
Looked at a nice old 72 El Camino roller, for $1,200.00 good deal less motor and trans though had a little rust....I don't need another project..
What I really need is a small comfortable shop truck. The 78-87 El Caminos seem to be going up in value here. Smog is super tough on a carbureted 80's vehicle.
I found a guy advertising a 98 S10 extra cab 4 cylinder and 5 speed for $1,500.00, 4 miles away. I didn't want a 4 cylinder but hey the price was right.....he said it had a misfire too...uh oh....
When I got there it was a V6 Vortec and an auto...wow, it would have sold quick for 1500 with the V6., but no one came looking....except me, bought it for $1,250.00 drove it home too. Needed an alignment, couple tires and shocks.
It runs pretty good, shifts great for 200K, but has a misfire code so It probably needs a new spider/mpfi upgrade, easy to do and about $250.00.
I'll re-nu the non op and use it as is for a while.
It has a really nice interior, buckets, console 3rd door and even a nice JVC stereo...wow score!!

Biggest issue vs the luv's is the smog deal...yes the old pre 75 cars don't need a smog test, but that's easier for me to deal with than the cost of upgrading the LUV was.

What do you guys think about the S10's?

I have seen their large forum, lots of info and followers.
JTR (Jaguars that run) has excellent info on swapping similar year Vortec V8's and make it look easy...
Maybe eventually, not as light as a LUV, but it will do for me.

It was a nostalgic journey for me, doing a V8 Luv swap, These trucks were all over the place in the 70's and 80's here in so cal.
when my conversion was done and reliable, it was just not what I was looking for.
Attachments: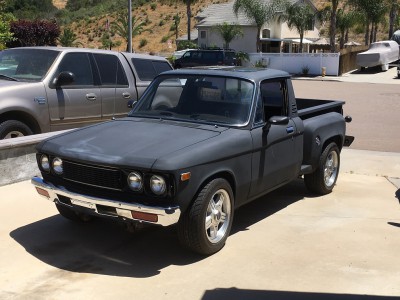 IMG_0574sm.jpg [ 296.27 KiB | Viewed 4660 times ]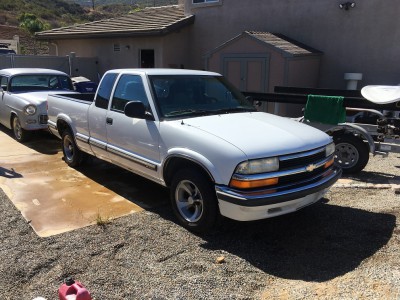 IMG_1165sm.jpg [ 384.75 KiB | Viewed 4660 times ]